#57 R.P.I.
Virginia Tech
@
#150 R.P.I.
france
: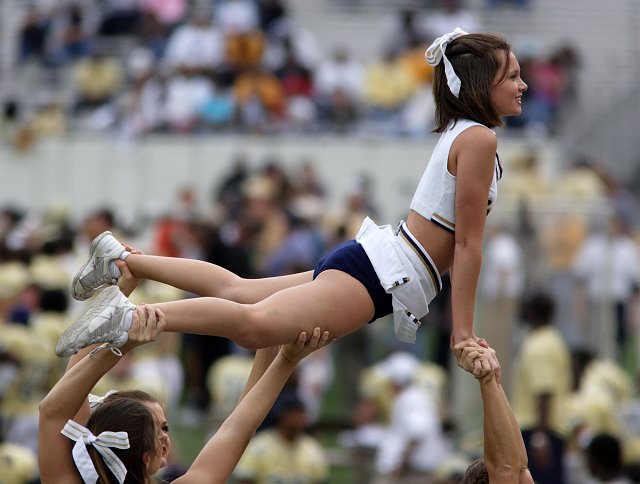 TV coverage: 1pm

Saturday

on Raycom
Vegas line: 

france+6
That was a very tasty win we cooked up at home Tuesday night vs. Maryland making us 2-o when it comes to Terrapin stew this season. Now we enjoy three days worth of fresh legs before invading paris while seeking payback for a very disappointing early December (12.o5) upset by the french who stormed our very own Cassell and marched away with a very upsetting 3 point Commonwealth win.
I do not like that and I doubt any of you did either. Recall we had just dropped a very tough one at home to currently 11th ranked and 20-5 Purdue by three points; and my boy Hud' was laming it up while dragging no less than four injuries up and down the court. In the meantime Seth and Co. have hung in as best they can and fashioned a very fine 13-3 record since we last played france. That's not half bad considering the amount of O&M hoopology talent that in now currently attired in civis and done for the year. All the more impressive when you consider that one of those three L's was by 3 points and another one was only buy a single bucket.
france on the other hand has seen Mr. Scoot's season end with a nasty foot injury. The french themselves have gone 7-9 since we last meet; including dropping  five of their last six contests – thus making these teams two ships passing in the Commonwealth night.
Still yet, these two are natural in-state rivals and as we all saw the last time out; anything can and sometimes does actually happen in a rivalry game.
france at a glance:
23rd fewest in Turnovers per game (11.3)
25th best in 3-point% (38.7%)
60th best in scoring defense (63.3)
3o5th in defensive 3-point% allowed (37.2%)
3o5th in scoring offense (62.7)
315th in offensive rebounding (think they miss Mike Scott?)
As you can see, france is not a bad defensive team, they shoot pretty well from range and that is about it. After that they are missing Mr. Scott in a big way. Subsequently, as you will see, this is not a overtly talented A.C.C. hoops squad at this stage of the season folks.
The french cast is a rather familiar one; with #23 Mike Scott a 6`8" 244 lb. thick set, broad-chested, mini-me Wes Unseld leading the way and putting the power in Power-Forward upfront. Mr. Scott has indeed stepped his game up, putting up 16 points, and pulling down 10 boards in the A.C.C. should indeed turn a few Pro scouting heads. Mike appears to be making a professional push; that may be code for overseas Pro; however that's a dang fine life if you can get it. 48% from the floor and 88% from the charity-stripe ain't hurting nothing either; nor is having at least collegiate three-point range when Mr. Scott elects to step outside. Or not, as Mr. Scott is no longer giving yah all he's got — no thanks to a surgical procedure to removed bits of loose cartilage in his left-ankle. God Bless on that.
Posthumous to Mr. Scott leading the cavalier way would be 2-Guard Mustapha Farrakhan (very related) is now first in scoring with 13 and change per game (13.2) , while being third in assists (1.9) and likewise third in steals (.6) to go with 44% overall and 36% from downtown. Not bad for a 6`4" 174 lb. volatile senior who can go off for a big game like he did on us his sophomore year; and like he did the other when he went on a tear to close out the month of January. Mustapha can go off every bit as much as he can simply disappear like he did @ Washington (4 points) and vs. Wichita State (0 points) and more recently on the road (7) at F.S.U. Mr. Farrakhan is a one man X-Factor (if you will pardon the play on words) if there ever was one. He must be on target for u.v.a. to have a shot in this one and he must get his team leading 100 FTA's to the charity-strip early and often which will allow u.v.a. to score while the game-clock is stopped.
Currently second in scoring would be t-freshman and 6`6" 204 lb. S-F Joe Harris. Harris was one of six recruits that Coach Tony Bennett (no relation) inked in the off-season and he has certainly been the surprise of the lot. Harris is netting 10 points with 4 boards on 44% from the floor and 42% from range which is a very big deal when you were not expected to contribute at all this season. Those kinda numbers from a rookie who was forecast to bring no rain this year in the A.C.C. –  is what I'd call a sleeper recruit who knows how to set a "I'll show you"  alarm clock. Virtually in double-digits at 9.5 per contest would be #24 K.T. Harrell a rookie 6`5" 204 lb. lead-G from Alabama who is said to be the best pure-G on scholarship. 45% from downtown for K.T. is pretty impressive; although K.T. simply does not have much of a defensive reputation if you know what I mean.
Beyond that UVA does everything via committee, with no less than six hoos netting between 2 and 7 points and between 1 and 3 boards per game. Big tall 7` 234 lb. C Assane Sene is back and so are his enhanced 4 points and5 boards and a block or two per game. With Mr. Scott out of the line-up; Sene is about as close as Coach Bennett can come to a low-post presence; albeit a defensive and awkward one.. Running the hoo offense in lieu of Sammy Zeglinski (and his 7 points and 3 assists) would be #1 5`11" and 185 lb. sophomore Jontel Evans. Evans is dropping a team leading 3.7 assists this year and not much else. Evans is uva's best defender on the ball this year and #22 6`9" 218 lb. string-bean 'tweener Forward Will Sherill is still a sharpshooter from range and in the classroom where he was all-A.C.C. Academic team last year. Sammy is a 6`1" 185 lb. junior year Philly suburban-baller who is not bad at anything any more than he is not great at anything either. Sammy is a decent enough all-around baller who is better suited to contributing from the bench and who had better be getting his degree. He and #22 6`9" 222 lb. senior PF Will Sherrill are both from big time hoops bastions or boroughs in East-Coast terms as Will hails from the big NYC himself. Will gives you 4 points a couple of boards and does his best work off-court in the classroom where he is first-string all-Academic A.C.C.
Conclusion(s), Fourm-Guide, and prediction:
59 points per game — that's what each team is averaging over the last three contests which have featured the scoreboard killer otherwise known as the Coach Bennett pack-line defense which has given Seth and Co. fits for the last several Commonwealth games.
On top of that we have the major foible -which has been code for an outcome spoiler in two of the last four games- that major foible is tempo control by HooVa. Slower=better for them; all the more so with Scott down and out for the year. Seth must do anything and everything to speed this game up and keep the O&M pedal to the metal. Seth and Co. had managed to shift the game into fifth-gear exactly one time in the last ten contests (2006: a 84-57 VT win).
That's the generics of what is going on here in this final revenue sport chapter of the 2010-2011 Commonwealth rivalry – baring an A.C.C. tourney trifecta of course. Per always in intra-conference scrimmaging; we have our trusty friend the Fourm-Guide to give us the head-to-head low-down on how these two teams have already fared vs. common opponents. The Fourm-Guide tells –which has been on a tear of late- tells us the following:
it predicts a 15 point

V

ic

T

ory!
it says that VT is noticeably superior offensive team — better in all except two games common-opponent games this season
it says that defense is much closer to even; although if anything france had a minor edge in this category
Sorry, there are no polls available at the moment.
The Home-Away splits were not so encouraging. VT drops by 4 points per game on offense out on the road; whereas the french improve by a very smart 8 fewer points per game allowed on defense at home; a -12 point shift not in VT's favor. FG% margin shifted by a conspicuous 7% from the field when VT visits and france hosts. Three-point FG% moved by an even more whopping 10% in fance's favor up in the John. So as you can see, homecourt not only favors le` team, it nearly wipes any apparent Hokie advantages on paper completely clean.
The most recent 5 game stat-line paints an altogether different picture. The VT offense has been 22 points per game better than the french offense over the last five contests; and VT's FT shooting has been a highly significant 15% better over the same time frame. Curiously enough, rebounding margin favored VT by a stunning +15 per game over the last game games on average.
So, we have two prime indicators that aver that VT is the superior basketball team; and one that gives a home-court nod to the french. However, here's the kicker, my sources say that starting Point-Guard Jontel Evans suffered an Achilles injury vs. Duke on Wednesday night; and that he is a game time decision. To make le` matters all the more Les Misérables, would be the fact that back-up Power-Forward Will Sherrill is "questionable" with a leg injury (fractured right fibula); which he re-injured a week ago down in Miami. Sherrill is said to be undergoing extensive hydrotherapy (underwater treadmill) in order to attempt to get back for Commonwealth rival Virginia Tech.
Here is how I see it; oui, the possibly of Bennett and company flushing tempo right down le` drain is indeed real up in the John. Oui again that homecourt favors u.v.a. in no small way as the french are a much more precious defensive team at home. All of that could indeed conspire to even things up a bit; if not entirely should VT be a bit chilly from the field on Saturday afternoon up in paris. That ugly game caveat firmly in place … nevertheless, this one is about astronomy to me. Virginia Tech has the star-power (M.Delaney and J.Allen) in this one and I for one am partnering with the two departing O&M superstars, who do have the revenge-card up their selves in this one. Try as they no doubt will, u.v.a. just does not have the talent 1 through 10 to match-up with Virginia Tech in this one. The only qualification being tempo; if Tony Bennett in company control tempo this one could go down to the wire. If Seth and company mange to throttle this one up, I expect a comfortable Hokie win. That is what I am formally expecting out of +3 days worth of fresh Hokie legs on Saturday.
Virginia Tech=74, france=58
"LET'S GO!"
"HOKIES!"
b'street